The River Manager plays a pivotal role in orchestrating the creation of rivers across the map. Its initial task involves identifying specific points on the map where rivers can originate (referred to as maxima) and where they can terminate (referred to as minima).
The River Manager then proceeds to iterate through all the maxima points. During each iteration, the manager evaluates the likelihood of a river spawning based on a percentage chance. If a randomly generated value surpasses this threshold, the river is not spawned, and the loop continues. However, if the generated number falls below the specified percentage chance, the manager identifies the closest minima point to that particular maxima point. At this juncture, both a maxima value (for the river's starting point) and a minima value (for the river's endpoint) are established, paving the way for the river's creation.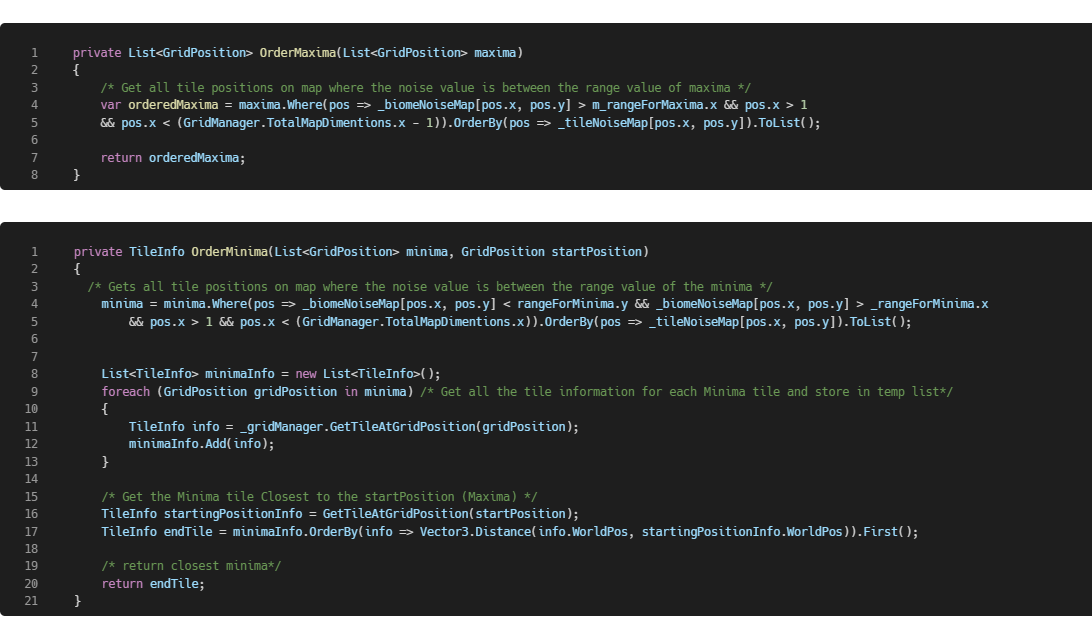 The river itself assumes responsibility for charting its path through the landscape, arranging tiles in close proximity along this trajectory while ensuring alignment with the terrain. Initially, the river forges its path using Perlin Worms, akin to selecting a random direction, but with an added layer of control. Users have the ability to adjust a weighting value that influences the degree to which the Perlin Worms affect the direction of the river. Subsequently, the river proceeds to position its tiles to follow the course it has charted.
The image below provides a visual representation of the rivers that have been generated.